Strike up a conversation with Zlatan
As the World Cup unfolded this summer, Nike wanted to build on the momentum of its
Risk Everything
campaign and its short film
"The Last Game"
that featured animated avatars of the tournament's famous Nike athletes. Along with its agency partner, Wieden+Kennedy, Nike produced dozens of animated clips in which one of the characters,
Zlatan Ibrahimovic
, commented on each day's events and answered fan questions submitted through the #askzlatan hashtag.
Zlatan proved a hit with soccer fans through his nightly observations alone, but Nike and Wieden+Kennedy wanted to find a way to connect soccer fans with his charm and sardonic commentary in an even more powerful way. How could Zlatan become not only animated—but actually brought to life?
In the early stages of concepting, the team discussed a Google+ Hangout as a way to give fans face-to-face contact with their soccer heroes. When production partner Passion Pictures explained that the characters could not only be used in films and illustrations, but puppeteered live, the answer was clear: a Hangout On Air, in which fans could pose their questions directly to animated Zlatan and have him respond, in real time.
This technical feat was not without its challenges. Enter a team consisting of ex-Muppet puppeteers, improv actors and voice-over professionals equipped with motion capture tools and software. The team rehearsed in the weeks leading up to the event to be able to work cohesively and answer questions without missing a beat.
To promote the event, multiple Google ad products worked in concert across the web to ensure people knew when and how to tune in, as well as how to explore the content after the event. In the week leading up to the Hangout, Nike drove traffic to a promo video by using YouTube TrueView ads.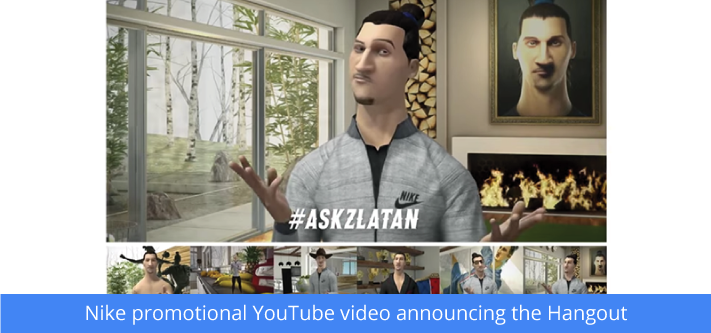 A new Google Search card surfaced when users searched "Nike Hangout," linking directly to the event invite. And right before the Hangout, a new type of Lightbox ad drove live tune-in, letting people watch directly in the expanded display unit.
Nike Soccer, the brand's newest app, had also just launched. Users received push notifications and an app card encouraging them to tune in to the Hangout.
In the first-of-its-kind animated Hangout, Nike was able to connect real soccer players and fans around the world with its Zlatan character. Leading up to the event, YouTube TrueView ads featuring the promo video generated more than 5,000 RSVPs. Compelling content and a multi-faceted campaign that leveraged Google ads across the web drove 22K live Google+ Hangout on Air views, 10% of which came directly from the Lightbox ads. Views increased in the days following the Hangout, as YouTube TrueView ads drove viewers to an edited version of the
recorded Hangout
.
450K
Views of the promotional video
500K
Additional views of the Hangout after the live event
1,544
Total hours spent watching the Hangout (equivalent to over 1K soccer games)